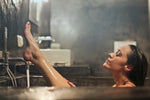 Mix up one of these recipes for an amazing bath the next time you're craving a soak - tailor to your own preferences!
The Classic Bubbles
Ingredients
6 oz. Wine of your choice (we recommend Hush Rose from Dirty Laundry; or a sparkling wine for ultimate bubbles)
1 tsp Bath foam (choose from ZenLotus, Fresh Lemongrass or Sunflower Citrus)
Instructions
Choose a suitably stable glass or similar for consuming wine in the bath tub. Fill to a pleasing level with the delicious wine of your choice. Bring into the bathroom to sip while you watch the bath foam bubbles form.
Prepare towel and comfortable clothing for after your bath. Put your phone on Do Not Disturb.
While filling your tub with (comfortably) hot water, slowly pour one teaspoon of bath foam under water stream. Swirl your hand to agitate the water even further. Slide into the tub with Jenny Lawson's hilarious memoir, lean back, breathe in the dreamy aromas and disconnect for a bit. Replenish hot water as needed.
The "It's Been an Awfully Long Day" Reset Button Bath
Ingredients
Instructions
If you have children in your home, send them with your partner, their other parent, a responsible family member or a good friend... with firm instructions not to return for at least 30 minutes. Great options, if they need a suggested activity, include: grocery shopping, the playground, the library (send your overdue books along!), getting the oil changed, going to your in-laws' for dinner or visiting the pet store to see the adorable animals and also pick up kitty litter.
Add 1/2 cup Five Minutes Peace Bath Soak to running bath water. While the tub fills, cue up your guided meditation and situate the speaker or device near enough to the tub to be heard, but not so near that you will accidentally short out the device in question if you fall asleep in the tub and splash water over the edge.
Let the day go. Even if there is still a mysterious stain on the dining room rug from sometime in the afternoon; the car is making a funny noise; you know you're out of toilet paper (the kids and their caregiver will take care of that while you take this bath); and tomorrow is your day to bring snack to pre-school... you have our permission to let it all go and sink into the tub and the meditation for 20-30 minutes.
<Your Name Here>, Party of One
Ingredients
2 scoops Ice cream (or however much you want, really)
1 Bath Bomb (choose from Fresh Lemongrass, Zen Lotus, All Better, Balance, Sunflower Citrus or Honey Therapy)
Netflix on an appropriate device
Instructions
Take ice cream out of freezer to soften.
Run a deliciously warm tub; rest bath bomb on edge of tub. Cue up your show on Netflix. May we suggest staying on theme with Party of Five?  
Now, scoop desired number of scoops of ice cream in your favourite festive bowl. Don't forget the spoon! 
Drop bath bomb into the filled tub and allow it to fizzle and release nourishing cocoa butter and soothing baking soda. Sink into your bath and enjoy your show! Paging your awesome self, party of one!
Post-Workout Recovery
Ingredients
Instructions
Finish that workout! No cheating!
Prepare chocolate milk or your favourite recovery drink. This might be a glass of cold water; an electrolyte drink like Nuun; or perhaps a frozen banana blended with milk, cocoa, peanut butter powder and hemp seeds into a delicious post-workout milkshake. Whatever helps you to refuel after a workout, really.
Cue up your podcast.
While filling the tub with (comfortably) hot water, add a big handful of soaking salts to the water and swirl to dissolve. Slide into the tub, lean back, breathe in the dreamy aromas and relax while letting the minerals soothe your hardworking muscles. Be sure to soak for at least 20 minutes for best results.
After your tub, massage Soothe Muscle Balm into your sore muscles to soothe and refresh body tissues.
The Milk + Oat Soother
Ingredients
Instructions
Let your tea brew while you run a hot bath. Apply mask of your choice generously to face, neck, and décolleté; massage for 30 seconds. Cue up Amen Dunes' Love album on Spotify.
Climb into tub. Immerse pre-portioned bag of Milky Way Herbal Oat Wash briefly in bath water. Gently squeeze the bag and rub over skin, releasing the soothing milky liquid. 
Leave your exfoliating or detoxifying mask on for a total of 10-15 minutes. Remove with a warm, moist cloth followed by several splashes of warm water.