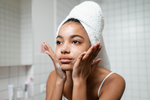 Are you looking for ways to improve your skincare routine? Here are some tips and tricks to help you achieve healthy, glowing skin (especially as we slowly transition from winter to spring!):
1. Hydrate, hydrate, hydrate! Drinking plenty of water is essential for keeping your skin hydrated and healthy. Hydrated skin is plump, soft, and smooth giving a youthful appearance. Carry around a reusable water bottle or bring a few stashed in the car if you know you're going somewhere you can't refill.
Bonus tip: add electrolytes for extra hydration.
2. Protect your skin from the sun by using a broad-spectrum sunscreen with an SPF of 30 or higher. Especially now as the days are getting longer and warmer, we are being exposed to stronger rays. Remember when exposing your skin to the sun do NOT use any citrus essential oil containing products as they are photosensitive – meaning they greatly increase UV sensitivity.
3. Cleanse your skin daily with a gentle cleanser to remove dirt and impurities. 4 Roses Facial Oil is a lightweight blend that deeply nourishes and hydrates delicate facial skin. Acting as a cleanser, makeup remover and moisturizer all in one.
4. Exfoliate once or twice a week to remove dead skin cells and reveal fresh, smooth skin. Our Frankincense + Geranium Facial Bar is gentle enough for daily cleansing while also acting as an exfoliant, plus it smells heavenly too.
5. Add a serum into your daily routine to keep your skin soft, supple, and hydrated. Go for one that includes Vitamin C, A or E to help with pigmentation and anti-aging purposes. A serum is lighter in texture while providing your skin with much needed moisturization.
Our Red Raspberry Seed Facial Oil contains high proportions of Vitamin E and A while offering mild sun protection.
Optional: add a toner to your routine! Serums and moisturizers often absorb into the skin better when it is already moist, therefore including a toner like our Rosewater Facial Toner will help you achieve just that.
6. Moisturize your skin daily to keep it hydrated and supple. Our Radiance Facial Oil is great for all skin types and was designed to pamper your skin while offering a sweet smell.
7. Get plenty of restful sleep to give your skin time to repair and regenerate.
At All Things Jill, we believe that taking care of your skin is an important part of self-care. That's why we offer a range of skincare products that are gentle, effective, and formulated with natural ingredients.
Visit our website to learn more and find the perfect products for your skin type.