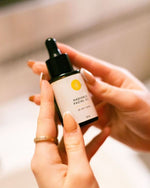 We are proud to have self-professed "skincare fanatics" Asgard Beauty as one of our retailers, carrying our facial oils, Bath & Body line, lip balms, and more. These folks have a lot of knowledge regarding skincare and are eager to share it.
Two examples on their blog delve deeply into the topics of moisture and facial oils.
DRY WINTER SKIN
If you've ever wondered why your skin gets dry in the winter, and how to best address that problem, be sure to check out their blog post "Winter is Coming… So Says My Skin. How to Help Keep Your Skin Hydrated This Winter."
[ Excerpt: "As you may have noticed, going from cold (outside) to hot (cozy heated home) seems to suck some of that precious hydration/water from your skin. I mean think about it, if you put your soggy socks that got wet from a ski trip in a cold space vs by the heater what is going to DRY faster. Yeah, the hot, dry heater that feels super cozy. It warms and dries the crap out of your skin. This is what happens when the water in your skin is greater than the water in your space/atmosphere. Those molecules get sucked into the drier space in a sad attempt to balance the micro world called your home. So how do we slow this increase in TEWL (transepidermal-water-loss) and maintain a healthy skin-barrier from the extreme temperature fluctuation, wind that hurts your face, dry heated spaces, and irritation/inflammation that may ensue? Read on my friend, read on…" ]
FACIAL OILS
Another post, "Face Oils: Beginner 101" explains the different ways that carrier oils can be incorporated into your skincare routine and why they are beneficial.
If you love knowing the WHY behind the steps in your skincare routine, we think you'll enjoy these posts. And be sure to check out everything (information and products) that Asgard Beauty has to offer!